Friday Fling
February's Friday Fling, a fun party for grown-ups, usually every third Friday of the month, will be held on 21 February at the UUCSV church. Red and white wine will be provided; please bring a potluck dish to share. First movie choice: The Wife (2018; Glenn Close, Jonathan Pryce; the husband gets the Noble Prize in Literature after a long marriage to the Great Man's Wife). Second movie choice: the Visitor (2008; Richard  Jenkins; a disaffected college professor has his life changed by an encounter with an undocumented immigrant being expelled by the government). Potluck begins at 6:30. For further information call Norm Kowal (458-4537)
WE'RE DOING IT AGAIN! Mark your calendars: Saturday, November 14, 2020 4-8pm.
The 2019 UUCSV Auction was a smash! In addition to donating $3200 to Bounty & Soul and more than that amount to a fund to build a first-class playground for our children on church grounds, we created interaction with the larger community of Black Mountain and flat-out had a ball with great food (thank you Alice Wells and friends), entertainment (thank you Spence Foscue and friends), and a wide range of wonderful auction items. If you were there, you know how much fun it was. If you couldn't make it, now you have a second chance
You'll be seeing more details and announcements as the time approaches.  We look forward to seeing you there!
A sampling of past events is shown below.   For information about current events, including a regular Social Action film series, please consult the monthly newsletter or the weekly Current.
LETS CELEBRATE Mamie Hilliard and her newly published book of poetry " …and to see takes time…" at Christmount Conference Center from 3-5 PM Sunday, October 14 hosted by Julia Jordan and Ruth Marion.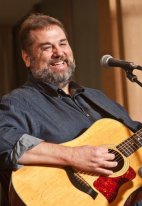 On Saturday, June 30, we were pleased to present
"An Evening with Matt Watroba."
Matt Watroba is an inspiring performer with an almost magical ability to turn any audience into a choir. His songs and stories will lift you up and you will leave feeling better than you did when you got there. Matt is a regular staff member at the Swannanoa Gathering during Traditional Song Week. He's coming to town early for this special concert on Saturday, June 30 at 7:30 p.m. Join us at UUCSV, 500 Montreat Road, Black Mountain, NC 28711.
Suggested donation $15 to $20, no one turned away.
Sunday May 20, 2018
We convened in the sanctuary at 12:30, after the service.  Our agenda included a discussion and vote on the following:
New annual budget for the year July 1, 2018-June 30, 2019.
Three nominees to the Board
Revised Bylaws
The  Trials of Muhammad Ali  :  a  Social Action film event!
The Social Action Committee's next film showing is Thursday, August 25 at 7 pm. "No conventional sports documentary, The Trials of Muhammad Ali investigates its extraordinary and often complex subject's life outside the boxing ring. From joining the controversial Nation of Islam and changing his name from Cassius Clay to Muhammad Ali, to his refusal to serve in the Vietnam War in the name of protesting racial inequality, to his global humanitarian work, Muhammad Ali remains an inspiring and controversial figure. Outspoken and passionate in his beliefs, Ali found himself in the center of America's controversies over race, religion, and war." (from the movie trailer)  The discussion after the movie will be led by Maria Santelli, Executive Director, Center on Conscience and War.   Questions? Call Suzanne Ziglar at 581-0564.
"An Evening with David Roth"



Saturday, July 2, 2016, 7:30 pm (doors open at 7:00)
Suggested donation $15 - $20, no one turned away
David Roth strikes many chords, hearts, and minds with his unique songs, offbeat observations, moving stories, sense of the hilarious, and powerful singing and subject matter. As he returns to the Swannanoa Gathering, catch him at "An Evening with David Roth" on Saturday, July 2nd at 7:30 p.m. Join us at UUCSV, 500 Montreat Road, Black Mountain, NC 28711. Suggested donation $15 to $20, no one turned away. For information contact Ginny Moreland. Join us for an intimate roller coaster ride of song and story! See more details here or visit David's website.
A Pete Seeger Songfest, featuring Jim Scott


Friday, June 19th, 2015 7:30 pm
Suggested Donation:  $10 to $15 at the door

We'll honor Pete Seeger, singing many of his well-loved songs such as If I Had a Hammer, Turn, Turn, Turn, Where Have All the Flowers Gone and many others.  All interested singers welcome, no experience necessary.  Led by composer/guitarist Jim Scott, who knew Pete well and collaborated on many projects with the folk legend, we'll raise our voices for the causes Pete championed and remember the great contributions to our American heritage Pete made in his 94 years of life.

"Last Chance for Eden" film showing

The Community Dialogues on Race continue, beginning with a two part showing of "Last Chance for Eden."  The first part will be shown at UUCSV Tuesday night, April 14th, 6:30 to 8:30 p.m.  Part Two will be on Tuesday April 28th, same time and place.  This description is from the producers' website:

Last Chance for Eden is a documentary about nine men and women discussing the issues of racism and sexism in the workplace. They examine the impact of society's stereotypes on their lives in the workplace, in their personal relationships and within their families and in their communities. In the course of their dialogue, they also explore the differences and similarities between racism and sexism - an area that has seldom been researched, but has heatedly become a very important issue needing to be understood and dealt with. (2002, 90 minutes)
Talent Show and Silent Auction - Saturday March 14th, 6:00 pm
Please join the UUCSV Community in a Talent Show and Auction Event which will raise money for the Coming of Age Yuuth to go to Boston.  We'll have refreshments prepared by our youth, opportunities to bid on a variety of donated items, products, services, and experiences.  Begining at 7:00 pm, we'll enjoy stories, songs, skits, poetry and music from many of our talented members and freinds.   Admission is a recommended minimum donation of $10 per person or $25/family. This is going to be an evening for all of us to remember!